Lake
and
beach
in
Crete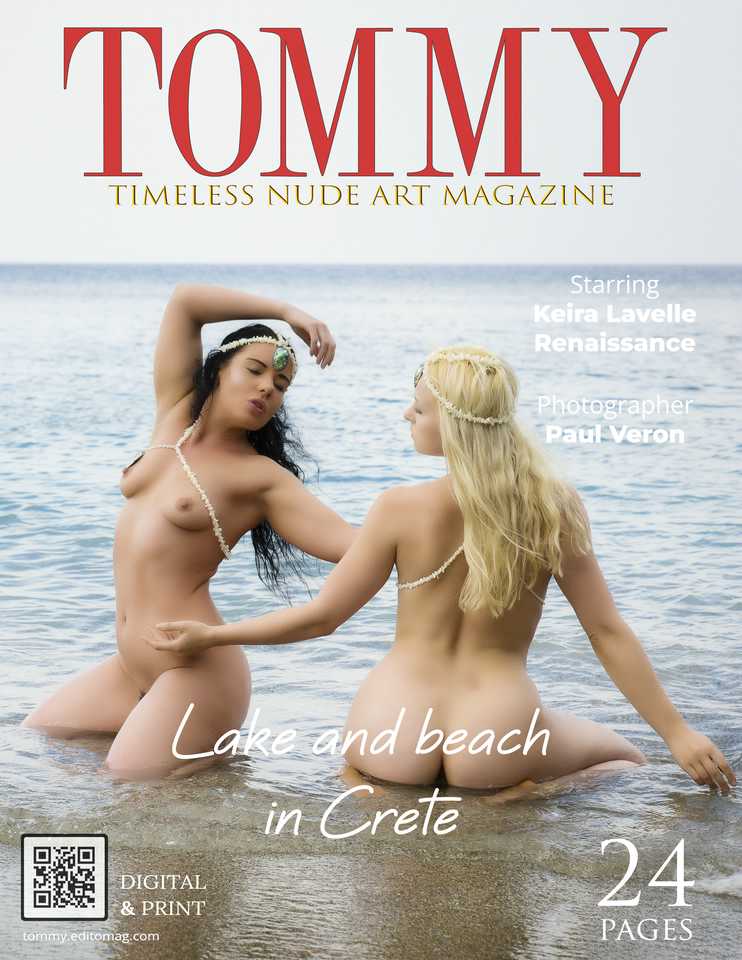 Keira
Lavelle,
Renaissance

Crete
-
Greece
This photo set was shot in the autumn on the Greek island of Crete; the fifth largest of the islands in the Mediterranean Sea.
It was an Arts Voyage Photographic Trip, run by one of the two models, Keira Lavelle, assisted by her colleague Renaissance as the second model.
Although I shoot several art nude genres, my natural nudes in nature work strikes the deepest chords within me.
In it, I am always trying to depict the special connection we humans have with our natural environment.
Having worked with Keira previously, I knew that she is an exceptionally talented, very hard working,
creative model who will always go that extra mile to deliver a special image. I had also reviewed Renaissance's work,
and had been most impressed, so the opportunity to work with both in some new natural landscapes was far too good to miss.
In this selection viewers can see a range of Crete's beautiful beaches and lakes lakes,
with a beautiful sandstone riverbed and of course the sparkling warm sea.
I hope that the women's connection with the land comes through, and reminds viewers of this intrinsic connection,
and sense of belonging, we all have deep within us.

Tommy Magazine, nude magazine like no other. Publish and sale editorials, reference photographers & models. Sell & fairly share revenues only on Tommy Magazine.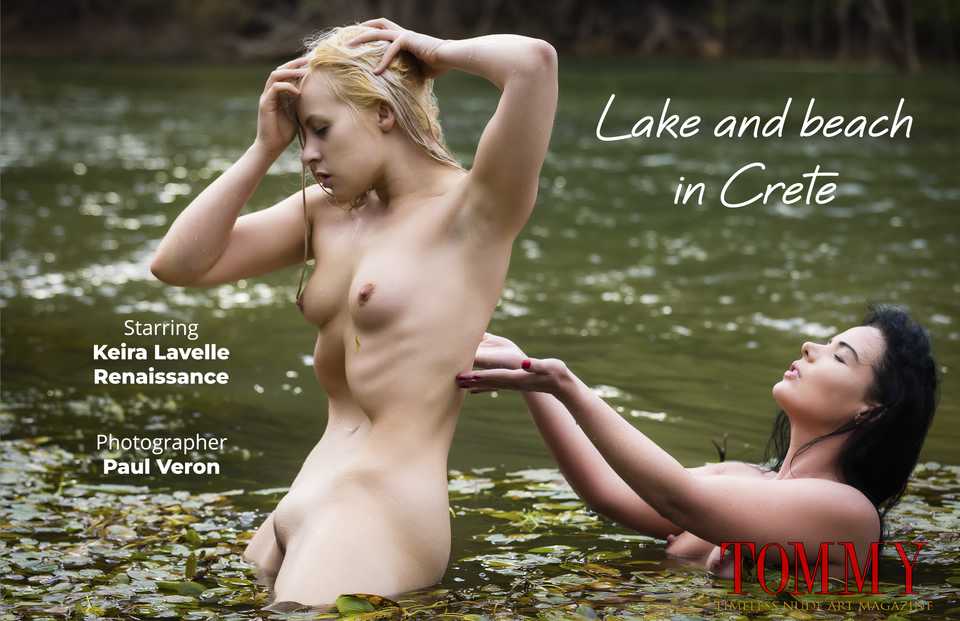 The sale and delivery of this editorial
are processed by our trusted partner

24
pages
PDF 2550 x 3300 px

Enjoy immediately your digital version
on your PC, Mac, Linux, smartphone and tablet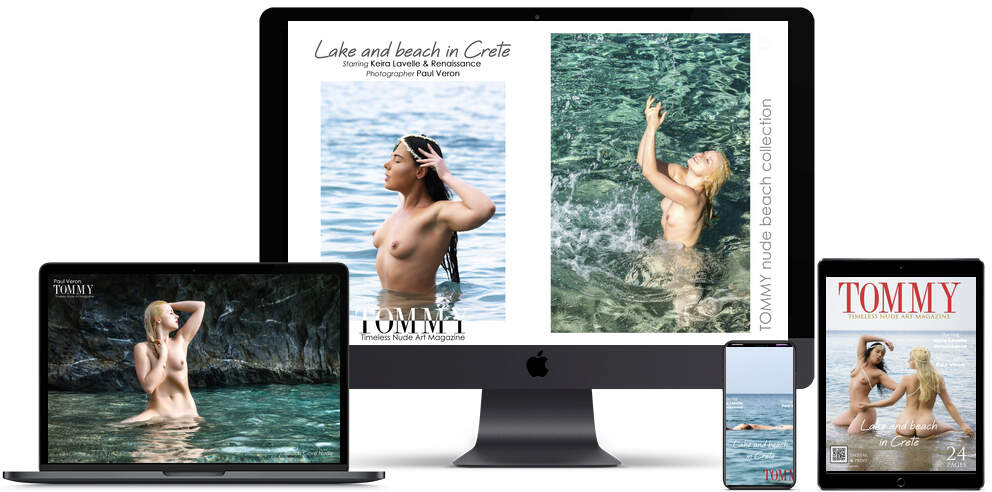 While waiting for the printed version to be delivered
to your home with its
24
pages
in US Letter format 8.25"x10.75" (21x27,3cm)
Saddle Stitch Binding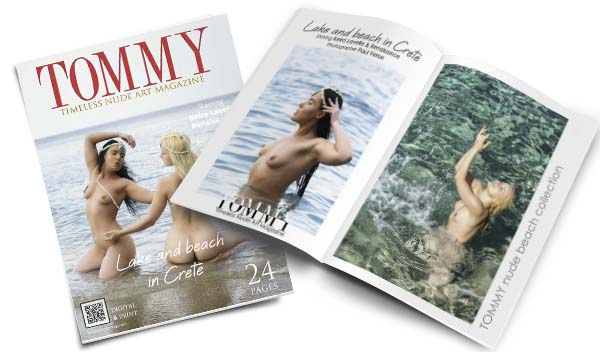 About
Keira
Lavelle
🌸Professional model🌸
🎬Actress/Film🎬
💄Hair/makeup artist💄
❤️Creativity❤️
🌎UK based🌎
Events: @artsvoyageintl
About
Renaissance
Renaissance ~ Model ~ Actress
Full time #creative #model based in the UK but travel internationally.
#portraitmodel #actress #makeupartist #creativeportraits
Renaissance's activities on Instagram:
"
Tainted Thoughts Express True Emotions... #model #modellife #portrait #portraitphotography #creativeportraits #creativeportrait #ukmodel #liverpoolmodel #horror #expressiveart #expressive #alternatebeauty #beauty #internationalmodel #portraitlove #portraitlovers #remoteshooting #portraitmodel #ukportraitmodel #renaissance.xx
"
"
For I looked in to your Eyes and could not breathe, You stole my breath away... A #creativeportrait shot taken by the Amazing #photographer @barbarossa_photo #model #portraitphotography #portrait #modellife #artist #storyteller #storytelling #creativemodel #ukmodel #headshot #alien #portraitmodel
"
"
Feel My Joy Transfer… Shot by the Fab #Photographer @barbarossa_photo #model #modellife #creativemodel #portraitmodel #portraitlovers #portraitlife #photographyart #shadowplay #beauty #portrait #portraitphotography #headshot #creativity #naturallight #expressiveart #storytelling #liverpoolmodel #merseysidemodel #internationalmodel
"
"
Illusion is no longer possible, because the real is no longer possible. Welcome to the Desert of the Real… #whatisthematrix #matrix #beauty #headshot #portrait #portraitphotography #portrait_vision #model #modellife #expressiveart #expression #emotive #emotion #snarl #ukmodel #remotemodel #portraitmodel #storyteller #renaissancexx #matrixinspiration
"
"
A Darkened Soul Whispers Sweetly... Shot by the Fab Photographer @stevestuart64 #model #modellife #liverpoolmodel #blacknwhite #bnw #blackandwhite #bw #photography #blackandwhitephotography #bnwphotography #monochrome #art #photooftheday #blackandwhitephoto #blacknwhitephotography #captures #love #portrait #portraitmodel #ukmodel #black #instagood #bnwmood #life #monochromatic #picoftheday #bhfyp
"
"
Layer me with Shadows, Protect me from the Light... Shot by the Fab #photographer @paulshootsportraits #model #modellife #mono #portraitphotography #portraitpage #portrait #naturallightphotography #ukmodel #expressiveart #blackandwhite #blackandwhitephotography #beauty #noir #monoart #photographicmodel #shadowplay #fashion #photographylovers #storyteller
"
"
A Tepid Taste of Clouded Dreams… #model #modellife #creativemodel #creative #beautymodel #portraitmodel #remoteshoot #remotejobs #expressiveart #renaissance.xx #wig #portraitlovers #portraitphotography #makeup #beauty #creativeportraits #ukmodel #internationalmodel #expression #photographylovers #photographyeveryday
"
"
The Breath of Life Consumed… #model #modellife #beauty #sfx #sfxmakeup #mua #gasmask #cantbreathe #photographylovers #photographylove #portrait #portraitphotography #portraitvision #portraitart #expressiveart #storyteller #storytelling #creative #makeup
"
"
RSI: It is dangerous to unmask images, since they dissimulate the fact that there is nothing behind them… #whatisthematrix #matrix #beauty #headshot #portrait #portraitphotography #portrait_vision #model #modellife #expressiveart #expression #emotive #emotion #snarl #ukmodel #remotemodel #renaissancexx #selfportrait
"
"
True Emotions mixed like a Painted Soul... #model #creativemodel #creativeportrait #creativeportraits #headshot #phantasmagoria #beauty #alternativebeauty #emotions #expressiveart #photohraphylovers #paint #portraitlovers #lockdownseries #beautylovers #ukmodel #portraitmodel #remoteshooting #renaissancexx
"
"
Sigillum Dei Aemeth: But what if God himself can be simulated, that is to say can be reduced to signs that constitute faith? #whatisthematrix #matrix #beauty #headshot #portrait #portraitphotography #portrait_vision #model #modellife #expressiveart #expression #emotive #emotion #snarl #ukmodel #remotemodel #renaissancexx
"
About
Paul
Veron
Artist's Name: - Amazilia Photography (Paul Veron)
Paul Veron (Amazilia Photography) is an internationally published photographer with several print publications,
who has recently won the Runner-Up "Photographer of the Year" position with an international magazine,
as well as achieving success in several global fine art photographic competitions.
He was born in 1959 in the Channel Islands, where he still lives today.
He studied natural sciences to degree level in Aberystwyth and Swansea Universities,
before attaining his Post Graduate Certificate in Education at Exeter University, UK;
more latterly he also holds Distinctions in both Foundation and Advanced Photography Diplomas.
Amazilia's art centers on the beauty, grace and intrigue of the female nude; a subject which has fascinated artists,
and drawn them like moths to the flame, in every creative discipline for millennia.
His work covers three core areas of people photography - dynamic fine art nudes, sensual nudes and nudes in nature.
While some of his most well-known works are in the first two genres, his recent projects have focused on nudes in the natural
environment, where Paul is always trying to depict a sense of the deep-rooted, intrinsic connection between people and the natural world.
He has exhibited his work to date in Hamburg, Lisbon, London, Milan and Seattle, and is currently working on a restricted number of Signed,
Certified Limited Edition High Quality Prints for Art Collectors, as well as continuing to make his work more generally available
through a series of Monographs, combining his joint loves of writing and visual art (through photography).
Full details are available on his web site, or by e-mail (see below).
Email: Amazilia.photography@outlook.com
Thank
you

شكرا جزيلا . Děkuji mnohokrát . Vielen dank . σε ευχαριστώ πάρα πολύ . Thank you so much . Muchas gracias . Merci beaucoup . תודה רבה לך . बहुत बहुत धन्यवाद . Grazie mólto . どうもありがとうございます . 정말 고맙습니다 . Hartelijk bedankt . Tusen takk . Dziękuję bardzo . Muito obrigado . Mulțumesc foarte mult . Спасибо вам большое . Tack så mycket . ขอบคุณมาก . çok teşekkür ederim . Дуже дякую . Cảm ơn rất nhiều . 非常感謝 .