The
warm
light
of
dawn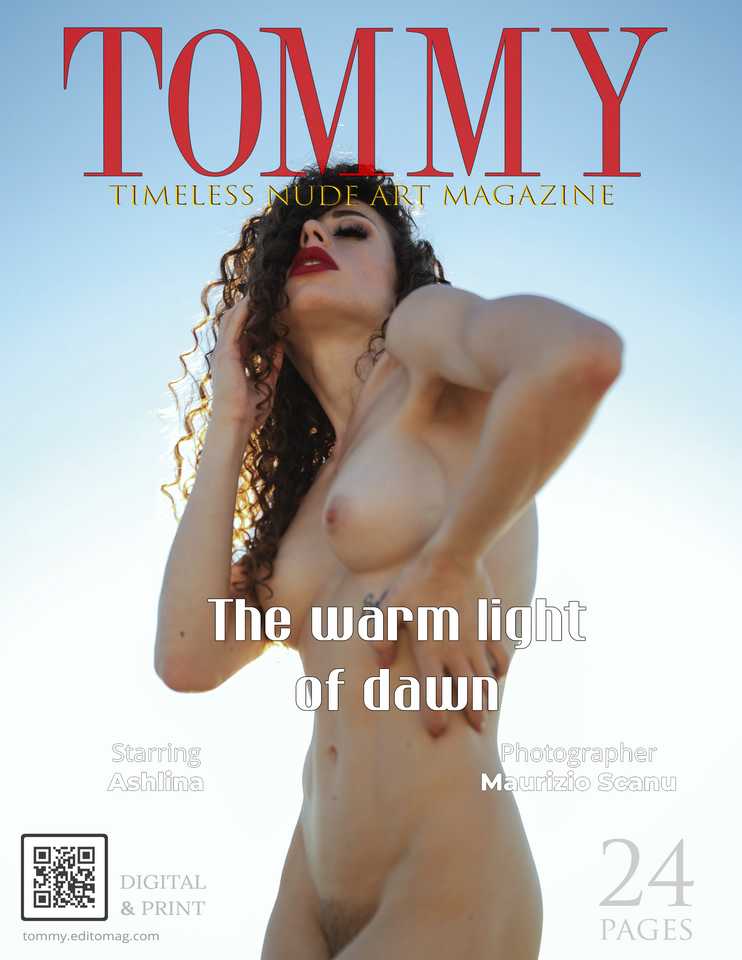 Sardinia
-
Italy
Wake up in the middle of the night with the desire to be warmed by the hot morning sun

Tommy Magazine, nude magazine like no other. Publish and sale editorials, reference photographers & models. Sell & fairly share revenues only on Tommy Magazine.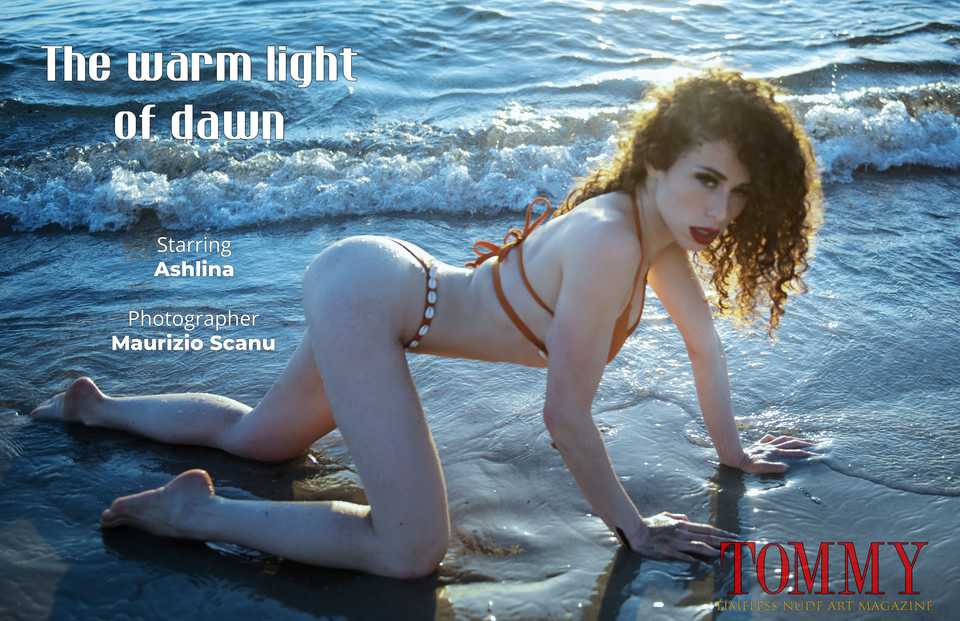 The sale and delivery of this editorial
are processed by our trusted partner

24
pages
PDF 2550 x 3300 px

Enjoy immediately your digital version
on your PC, Mac, Linux, smartphone and tablet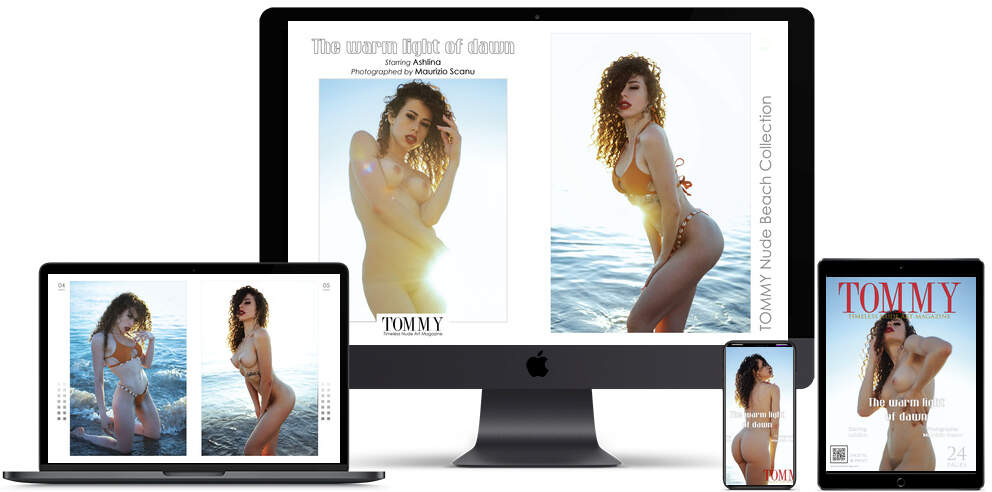 While waiting for the printed version to be delivered
to your home with its
24
pages
in US Letter format 8.25"x10.75" (21x27,3cm)
Saddle Stitch Binding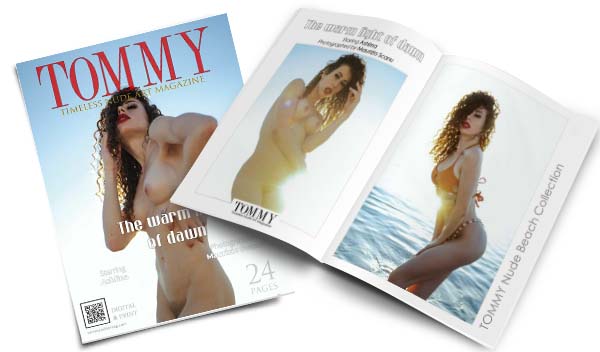 What Ashlina 'says' on Instagram:
"
Sardegna mi manchi 💙 Non pubblico mai foto amatoriali ma vediamo come va.. 🤷🏻‍♀️ Vi piace? Scrivetemi la vostra preferita nei commenti 🙃 #estate #estatedavivere #solemarevento #estateitaliana #luglio #agosto #spiaggia #vacanzealmare #vogliadimare #profumodimare #bellegiornate #sorrisi #pacedeisensi #giornatebelle
"
"
Prima di fare sta foto, per educazione ho detto al fotografo: scusami ma sto per darti le spalle. 🤣 L'educazione è importate ! Non scordatevelo 😜 Grazie a @lucaclericiph per questa splendida foto 💙 • Commentate ❣️ • Lasciate un like 😘 • Save 💌 #model #yamamay #sun #blue #photography
"
"
🖤 Ph: @maxlaz66 #1d #_wg #bestphoto #bestsnaps #clubsocial #golook #ig_universal #igfotogram #ignation #igscout #love
"
"
La sensualità è una dote innata, come per tutti gli altri talenti che la vita dona, non è per tutti. 🖤 Ph: @luca_denardo #model #lingeriesensual #nudart #amazing #art #awesome #baby #beach #beautiful #bestoftheday
"
"
È ufficiale! Questa è mia nuovo foto preferita 😍♥️ Vi piace? Ph: @maxlaz66 Support my Links in Bio ♥️ #lingeriesensual #bootygirl #modelshoot #sexylingerie #photography
"
"
Quanto adoro il bianco e nero 🖤 Ditemi la vostra preferita 🙃❣️ Ph: @apedretti.it Cose da fare : • Commenta ❤️ • Condividi 📩 • Salva 🙃 #beauty #love #model #toples #nudelook #top #likeforlikes #photography #garage
"
"
Sola a sorseggiare il suo té pomeridiano In attesa che qualcuno le rubi lo sguardo.. Qual è la vostra preferita? 😍 La mia, la numero 3 🙃 Ph: @lucaferrarini_photography #amazing #bestoftheday #colorful #follow #followback #followme #food #foodporn #friends #girl #igers #instacool #instadaily #instafollow #instagood #instagramers #instalike #instalove #life #like #look #love #motivation #nature #photooftheday #picoftheday #selfie #smile #style #sun
"
"
Estate fotografica 2021 Quale preferite? ♥️ Ph: @fabiopicturez Dal Mini Work Shop di @luca_denardo Cose da fare : • Commenta ❤️ • Condividi 📩 • Salva 🙃 #beauty #love #model #erotisme #nudelook #beach #sealife #workshopdefotografia #welness
"
"
🖤 Ph: @nyktos_ph #models #lingeriesensual #eroticlingerie #beautiful #black
"
"
Era da un po' che non postavo 🥲🤷🏻‍♀️ Qual'é la vostra preferita? ♥️ Ph : @maxlaz66 #model #lingeriesensual #glamour #boudoir
"
"
" Fatti fotografare anche quando fumi che sembri più vera " ( Vale per le prime due 🤣 ) Grazie a @wivivphotos ❣️ Estate Fotografica 2021 di @luca_denardo • Lasciatemi un cuoricino nei commenti 🖤 #estate #model #lingeriesensual #smoking #liketime
"
Fotografo freelance - Stampe fine art
What Maurizio Scanu 'says' on Instagram:
Thank

you


شكرا جزيلا . Děkuji mnohokrát . Vielen dank . σε ευχαριστώ πάρα πολύ . Thank you so much . Muchas gracias . Merci beaucoup . תודה רבה לך . बहुत बहुत धन्यवाद . Grazie mólto . どうもありがとうございます . 정말 고맙습니다 . Hartelijk bedankt . Tusen takk . Dziękuję bardzo . Muito obrigado . Mulțumesc foarte mult . Спасибо вам большое . Tack så mycket . ขอบคุณมาก . çok teşekkür ederim . Дуже дякую . Cảm ơn rất nhiều . 非常感謝 .