Acrobatics
and
beauty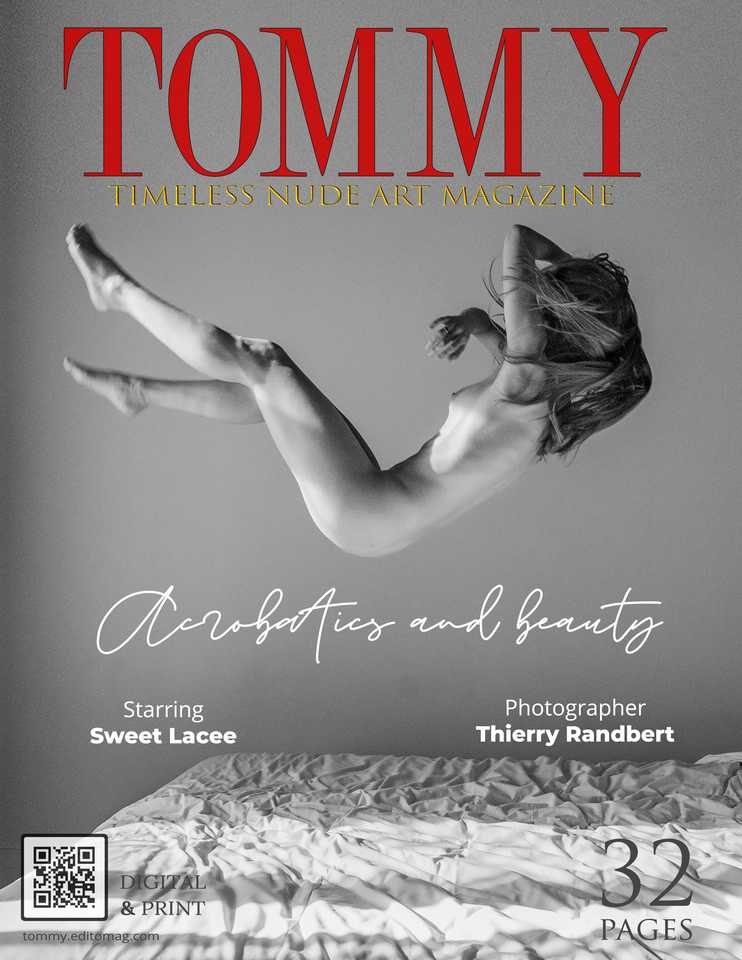 Paris
-
France
Sweet Lacee who is not afraid of anything, does more or less acrobatic poses with more or less incredible jumps on a very solid bed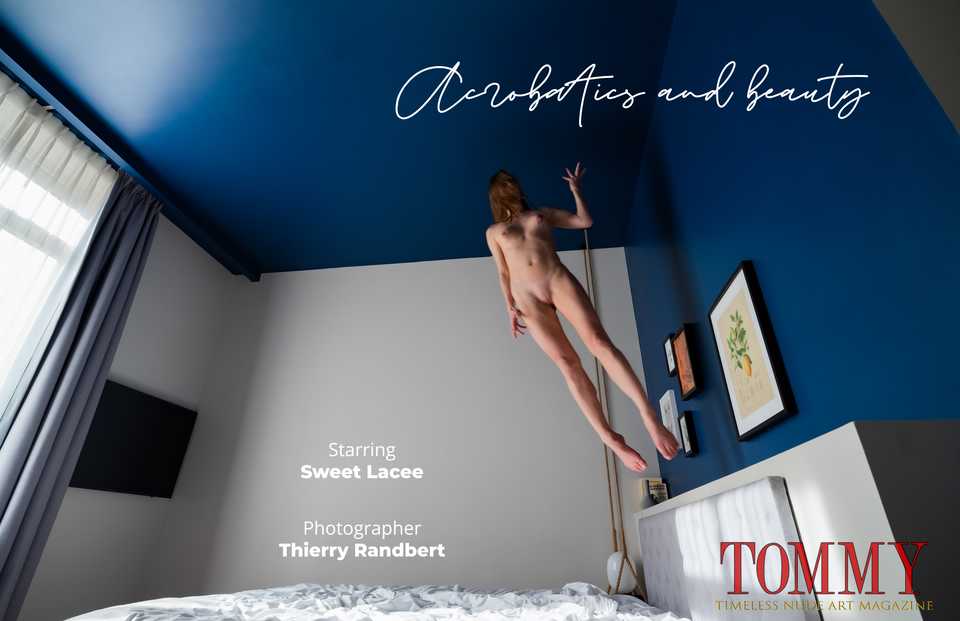 Print
Version
32
pages
US Letter 8.25"x10.75"
Saddle Stitch Binding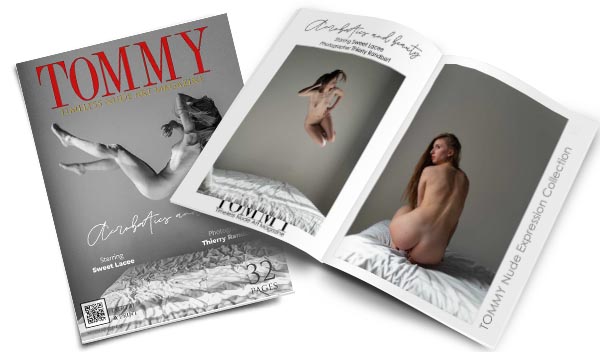 Digital
Version
32
pages
PDF 2550 x 3300 px

and enjoy your digital editorial
version with its
32
pages on your PC, Mac, Linux, smartphone and tablet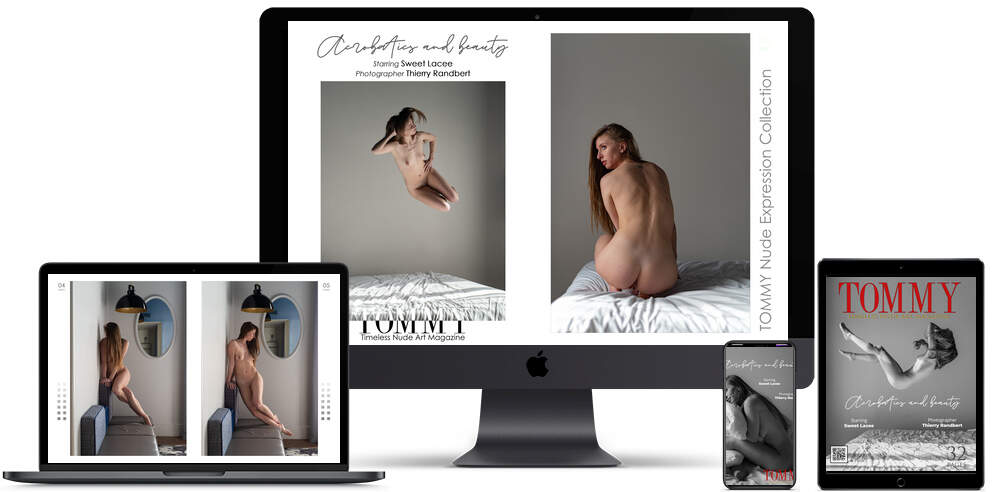 Buy the print copy of this book and get the digital version for
free !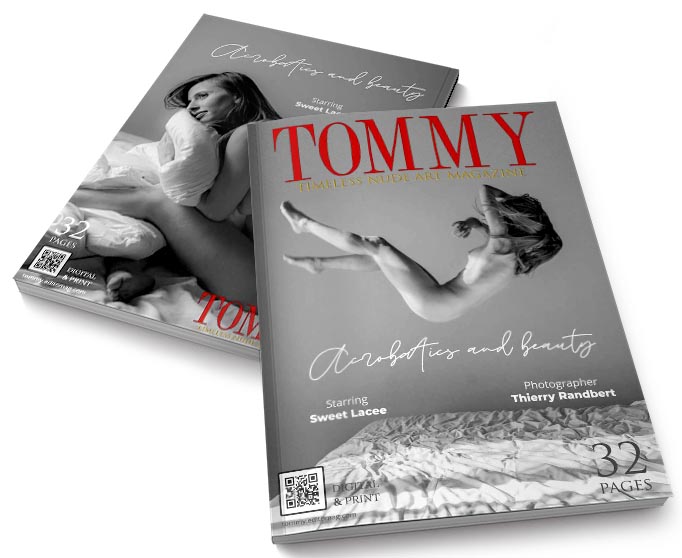 Lingerie | Boudoir | Nude Art
French Model 🇫🇷📸
Exclusive Photos on @sweet.lacee.backup
What Sweet Lacee 'says' on Instagram:
"
Vous devez liker ce post sur ordre des Peaky Blinders 🥃 📸 @_bonjourvous #peakyblinders #tomyshelby #shelby #1920 #serie #blackandwhite #blackandwhitephotography #frenchmodel #frenchgirl #bnw #bnw_photography #art #coat #hat #beret #casquette
"
"
On me dit souvent que j ai une drôle de manière de monter les escaliers...🤔 Qu est-ce que vous en pensez ?! . 📸 @shootingjm. . #stairs #model #models #photomodel #photography #arts #frenchgirl #frenchmodel #artistsoninstagram #artwork #art #photoshoot #body #shape
"
"
Upside Down, quand je prends une chambre à l'hotel ! Couleur ou noir et blanc ? 📸 @thierrybeez.eye #upsidedown #tetealenvers #frenchmodel #frenchphotography #blackandwhitephotography #blackandwhite #accrobatic #athlete #dancer #yoga
"
"
En apesanteur avec le talentueux @thierrybeez.eye ☁️ À votre avis cette photo a été réalisée avec ou sans trucage ? #arts #gravity #antigravity #apesanteur #fly #flying #photoshoot #artphotography #artisticshoot #modelphotography #photoshooting #parisienne #parisiangirl #bnwphotography #bnwshoot #bnwart
"
"
Paris, une salle 4 ambiances 😂. Alors quelle est votre préférée ? . 📸 @bagat_elle . #sacrecoeur #sacrecoeurparis #montmartreparis #lestoitsdeparis #rooftopparis #roof #model #photography #parisian #parisiangirl #blondgirl
"
"
Impossible de choisir entre ces 2 là ! Alors je vous laisse trancher, laquelle vous préférez ?! . 📸 @jacques_dussaux Canvas : @gravitybackdrops . #frenchmodel #shooting #frenchshooting #photomodel #photography #blondgirl #blondhair #model #strikeapose #canvas #parisiangirl #parisianmodel
"
"
Il n y pas que Rodin qui pense 💭. . 📸 @danpagepix . #naissance #rodin #frenchmodel #frenchartist #parisiangirl #photography #photomodel #art #artstagram #artist #shooting #photoshoot #blondgirl #artpicture
"
"
Retour en enfance 🐼. . 📸 @bernardgilly. . #panda #mickey #portrait #underwear #undizfamily #undiz #photomodel #cute #frenchmodel #photography #peluche #doudou #portraitfrance #modele #model
"
"
Même sans qu'il me prenne dans ses bras je vois la vie en rose 💖 Dites-moi en commentaire quelle est votre préférée ? 😘 📸 : @elegantboudoirparis #pink #rose #colors #flower #flowers #fleursdecotons #fleurs #couleurs #frenchmodel #modelphotography #photoshoot #boudoirshoot #longhairstyles #longhair #blondgirl #parisiangirl #frenchgirl
"
"
May the force be with you ! Et vous plutôt du côté clair ou obscur ?! . 📸 @carpi_image. . #starwars #maytheforcebewithyou #darkside #bobafett #jangofett #mando #mandalorian #force #sith #jedi #quelaforcesoitavectoi #photography #modelphotography
"
"
Quand je l aperçois je dégaine mon coté animal 🐆 . 📸 @mika_lphotoworld . #wild #sauvage #felin #panthere #tiger #maisonclose #body #blondhair #blondgirl #longhair #blueeyes #frenchmodel #frenchgirl #parisiangirl #photography #photomodel
"
Thierry randbert photographie
Replay of Prev. @thierrybeez del at 4k.
Un éclectisme assumé.
Dm for collab 😊.
Paris
#labaignoirecannibale
Bkp : @thierrybeez.back
What Thierry Randbert 'says' on Instagram:
"
Simply bnw shapes . @corps_eperdu . #bnw_artstyle #modelshooting #bnw_addicted #everydayboudoir #somethingboudoir #boudoirphotographer #boudoirmodel #boudoir #boudoirshoot #boudoirphoto #fineartphotography
"
"
Y a des personnes comme ça , quand elles se chatouillent le menton, ça leur fait un effet!! @victoiredeblasset #bnw_addicted #boudoirphotography #modelephoto #modelparis #guiliguili #pentax
"
"
Revival. Lines and curves @modellsheraz . Early 2019. #linesandcurves #pentax #enequilibre
"
"
Mais comment ça marche cette robe.... Un peu de grain. @__pretty__eva__ _#everydayboudoir #somethingboudoir #boudoirphotographer #boudoirmodel #boudoir #boudoirshoot #boudoirphoto #7bnwcreation_1day
"
"
@celle.qui.aimait . Son livre est toujours disponible à la vente :) #bnw #bedmood #shootingettexte
"
"
Reflection. Repost. @sarahcrazyevening #reflets #lines #nylonstockings #parisianwoman
"
"
Dans ses pensées. @corps_eperdu #sunshine #nuisette #delicatesse
"
"
En voilà une qui a vraiment envie de repartir en voyage. @hasna_grameuse #malle #inkedgirl #decalé
"
"
Boudoir by @wendycoblt @lamondainehotel @impudiquelingerie #boudoirlingerie #boudoirphotographer #nylon #stockings #model #modeparis
"
"
Daily place, delicate movement. @corps_eperdu . Merci à toi pour ta confiance! #nylonaddict #windowportraits #contrejour #sensuality_mf #sensual_shots_ #boudoir #boudoirphotographer #intimacy
"
"
Suite de la série miroir par terre, @__pretty__eva__ inspirée. #miroirpaterre #onsypenche #bnw_greatshots #basdelaine
"
Thank

you


شكرا جزيلا . Děkuji mnohokrát . Vielen dank . σε ευχαριστώ πάρα πολύ . Thank you so much . Muchas gracias . Merci beaucoup . תודה רבה לך . बहुत बहुत धन्यवाद . Grazie mólto . どうもありがとうございます . 정말 고맙습니다 . Hartelijk bedankt . Tusen takk . Dziękuję bardzo . Muito obrigado . Mulțumesc foarte mult . Спасибо вам большое . Tack så mycket . ขอบคุณมาก . çok teşekkür ederim . Дуже дякую . Cảm ơn rất nhiều . 非常感謝 .