Beauty
in
Utah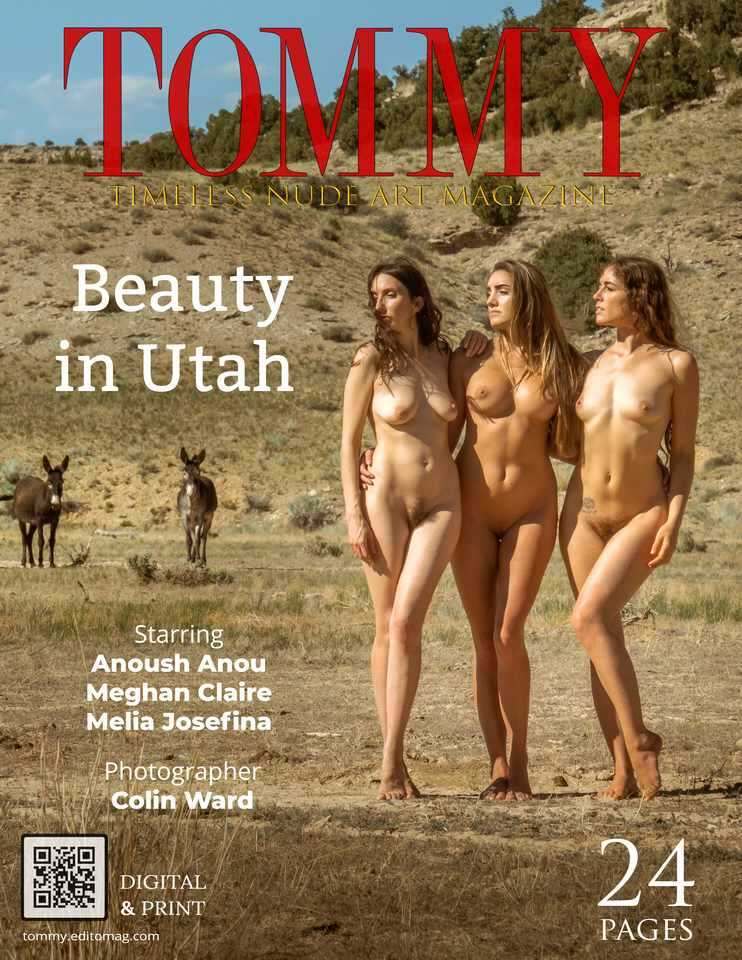 Anoush
Anou,
Meghan
Claire,
Melia
Josefina

Utah
-
United
States
Beautiful nudes in the state of Utah, USA
The Bonneville Salt Flats, The Great Salt Lake, and canyons near Moab
Utah, USA...

Tommy Magazine, nude magazine like no other. Publish and sale editorials, reference photographers & models. Sell & fairly share revenues only on Tommy Magazine.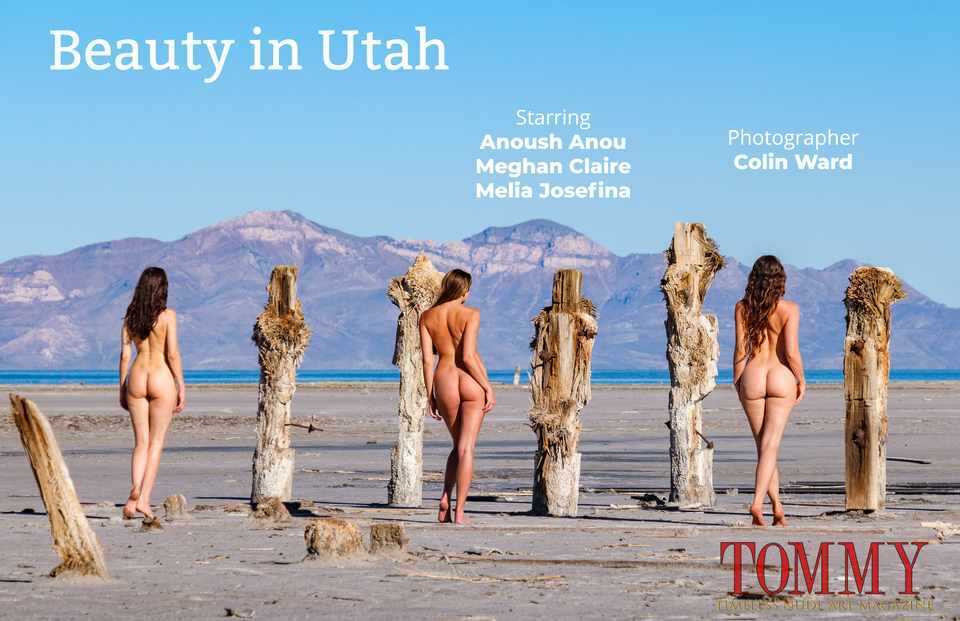 The sale and delivery of this editorial
are processed by our trusted partner

24
pages
PDF 2550 x 3300 px

Enjoy immediately your digital version
on your PC, Mac, Linux, smartphone and tablet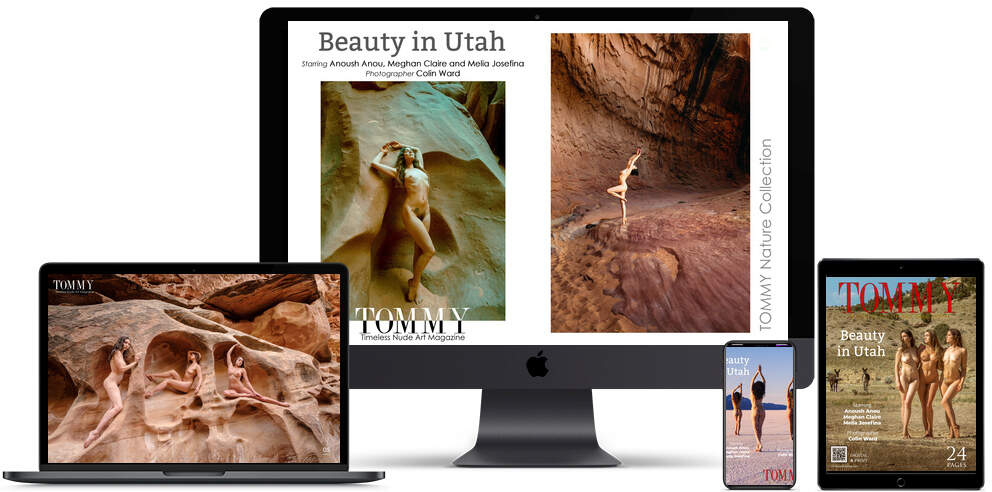 While waiting for the printed version to be delivered
to your home with its
24
pages
in US Letter format 8.25"x10.75" (21x27,3cm)
Saddle Stitch Binding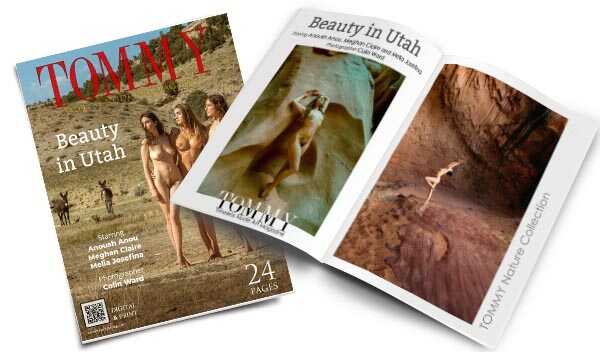 Art Model | Environmentalist
Now booking: SLC, St Louis & remote shoots.
DM me for details 📩: anoush.anou@gmail.com✨
Made in NZ 🌱 #plasticfree aspirant 🌎
🔽For more images🔽
What Anoush Anou 'says' on Instagram:
"
@utadventure is magic 💫 DM me for for info 💕 Image by the wonderful artist and human @soul.craft 📷✨
"
"
By the wonderful @donnytidmorephotography 📷✨, 2019 . . . . . . #naturallight #fineartphotography #blackandwhite #blackandwhitephotography #bnwsouls #bnw_drama #bnw_rose #bnwmood #bnw_captures #bwsoulpr0ject #artmodel #ftwotw #photocinematica #taintedmag #dreamermagazine
"
"
Straight from the camera (with permission) from a #remoteshoot last year with the amazing @lawrencesview 📷✨
"
"
One day when you wake up, you will find that you have become a forest. You have grown roots and found strength in them that no one thought you had. You have become stronger and more beautiful, full of life giving qualities. You have learned to take all the negativity around you and turn it into oxygen for easy breathing. A host of wild creatures live inside you and you call them stories. A variety of beautiful birds rest inside your mind and you call them memories. You have become an incredible self sustaining thing of epic proportions. And you should be so proud of yourself, of how far you have come from the seeds of who you used to be. - Nikita Gill Images on 35mm by the beautiful and multi-talented @mayatihtiyasphoto 📷✨
"
"
There's a crack in everything, that's how the light gets in. #35mm captured remotely by @stellina.stampouli 📷✨ #leonardcohen
"
"
This past year has been full of blessings, but one thing I've really missed a lot has been spending time in nature. 🌿✨ I couldn't be more grateful to have another opportunity to reconnect this week in one of my absolute favorite ways, by creating here in Utah with my @utadventure family. 💞 These magical experiences always leave me feeling so inspired and reenergized, and I'm sooo excited to see what the next 6 days bring! 
🌄 This image was taken on a past tour, by the wonderful @carlosdavid.ca 📷✨
Dates for the 2nd-half of 2021 will be released soon; if you may be interested in joining one of these events please visit the link in my bio to register using the code ANOUSH21, or feel free to DM me for more info! 🤗
"
"
I've never taken the magical experience of creative collaboration for granted, but what a joy it is now, especially, to share that space with someone. From one of my first post(ish)-covid shoots, with the incredibly sweet and talented @ryanmuirhead 📷✨#pentax67 #ilforddelta400
"
"
My dear friend @theanthonygauna lost his account and is trying to rebuild. He's an amazing wedding and portrait photographer, and just an all around incredible human, check him out! 🤗❤️
"
"
Hey friends! Today I have two very exciting announcements rolled into one! I've been pretty absent on social media lately, I know (thanks for sticking around!), but I've been meaning to let you all know how THRILLED I am to have been invited back to UTadventure next summer! ☺️🎉✨ You can join me, along with beauties @siennahayes.model and @shantiaveney from June 2 - 7, woot! 🥳
I admire and respect both of these women to the moon and back, and can't even imagine what an inspiring adventure this will be. Definitely a great one to consider if you've ever been tempted! And, as always, I can't recommend these events enough… I've been lucky enough to model at quite a few and each and every one has been such an uplifting blur of breathtaking landscapes, beautiful art, great vibes and new friends… I'm always left on a creative and personal high for weeks to come! ❤️✨

The second piece of amazing news is that, in case you are feeling tempted to join me in June, or by any other of their 2021 tours, @utadventure are offering an incredible sale for anyone who registers this Friday, November 27th… I'm talking $500 off!! 🔥💃🙌 Please visit www.utadventure.com to learn more, or to register using the code ANOUSH21. This sale is for one day only, so mark it in your calendars, and please feel free to DM me if you have any questions in the meantime. 💌

This beautiful shot of the amazing @faemuirina , @viribusfemina and I was taken on one of last year's magical tours by the super talented @soul.craft. I can't wait to return to this epic location! 🙌🎉

Thanks for reading, and I wish all of my U.S. friends a warm and love-filled thanksgiving. I'm SO incredibly thankful for all of you! 🤗❤️
. . . . . . #naturallight #35mm #35mmfilm #donteditme #analoguephotography #filmphotography #filmphotographic #analogue_people #theanalogueproject #believeinfilm #uncertainmag #filmwave #theanalogclub #back2thebase #magazine35mm #girlart #NZmodel #blackandwhite #blackandwhitephotography #bnwsouls #bnw_rose #bnw_creatives #bnwmood #bnw_captures #bwsoulpr0ject #bodylanguage_bnc #taintedmag #dreamermagazine #humanedge #folksouls
"
"
From a #remoteshoot with my wonderful friend @aimophoto 📷✨
"
Traveling Art Model
Yoga, Dancer & Nature Lover 🌱
✨ Feminine Empowerment ✨
Boulder, CO & Tulum, Mexico
What Meghan Claire 'says' on Instagram:
"
Film portrait series amongst the wildflowers blooming on the cliffs above the ocean. Photos by the magical @decarbonazul. #filmportraits #filmportraitmag #filmisalive #filmphotography #artphoto #portrait #portraitmood #emotiveportrait #wildflowers #artmodel #naturalbeauty #humanexperience
"
"
TRAVEL NOTICE: July 20-24: Santa Fe, NM Aug 16-25: Santa Fe, ABQ and Utah Sept 13-26: Santa Fe, ABQ and Utah Oct: Bay Area (and potentially southern CA) ~ DM me for Bookings ~ 2021 UTadventure Tours: ✨ Aug 18-22: Mini Tour with @venusdesierra, fully booked ✨ Sept 16-21: Tour with @venusdesierra and @viribusfemina. There are still some spaces available. Sign up at www.utadventure.com. Or visit them at @utadventure. Photo by the talented @nimblephotons #travelingmodel #artmodel #fineartphoto #bnwphoto
"
"
Repost from @jonathancphotog Daughter of the sea @meghanclaireart #fineartphotography #naturallightphotography #oceanbeach #seashore #portraitphotography
"
"
How does the world look when you flip your perspective around for a change? #filmphoto by @ellefish0oneiro #filmisnotdead #filmportraitmag #portraitmovement #portraitmood #artmodel #artphotography #pr0ject_soul #theportraitpr0ject #perspective #worldviewmag #portraitstreak
"
"
Announcing my last modeling trip of the year before I head south to Mexico for the winter (feeling those monarch butterfly migration vibes): ✨LA & Joshua Tree Oct 10-12th ~ One space left Photo by Eric Lowenberg, captured in Arizona this summer and censored for… hmm… well, puritan patriarchal values. And I will stop there, because some days censoring my body and art so that I can use this platform is very triggering for me. #bayareamodel #bayareaphotographer #artmodel #figureart #fineartphotography #naturalbeauty #bodyfreedom #bodyisatemple #bodyisart
"
"
It's a wind-blown kind of day. Film photos by the awesome @decarbonazul #filmisalive #bwfilm #windblown #sombrebeings #portraitmood #bnwmood #moodydays #pr0ject_soul
"
"
In the field of imagination 🌿 The message of wisdom I received during my meditative practice and am holding with presence this week: stay grounded through nature, keep the heart open in love and vulnerability, and create beauty within and through you. Root, heart and crown, all beautifully nourished and connected through these three mindfulness practices. ♥️ Beautiful film photography by @ellefish0oneiro created in the mountains of Colorado. #filmphotography #bnwfilm #bnwportrait #bnwsouls #portrait #portraitmood #pr0ject_bnw #bwsoulpr0ject #theportraitpr0ject #artmodel #fieldofflowers #selflove #mindfulnesspractice #beautywithin #wildflowers
"
"
Soaking in the silence of midnight hot spring waters, deep in the mountains amidst a forest of pines and aspens, under a vast blanket of stars come alive with the peak of the Perseid meteor shower. 💫 We harvested and ate wild rosehips and salal berries from the land where we camped 🌹 Filled with gratitude for the earth and her sacred healing waters. Feeling abundant in friendship, nature connection, and the beauty that exists all around us. ❤️ Film photo by @ellefish0oneiro #hotsprings #perseidmeteorshower #rockymountains #wildearth #sacredland #sacredlife #filmphoto #filmisalive #colorfilm #figureart #artmodel #coloradobeauty #naturalbeauty #goddesslife
"
"
Creating with @venusdesierra this week has been such a dream! One of my favorite things about modeling on @utadventure tour are the meaningful and lasting connections that are made. This photo was captured yesterday by @dlavrentyev in a slot canyon blessed with rich red pools brought in from the rains. I am already looking forward to coming back here again September 16-21st to model with @venusdesierra and @viribusfemina. There are still a couple of spaces left for photographers, and they will be announcing a sale soon for all of their upcoming summer tours, so keep an eye out for that in the days to come and register early to come join us! #redearth #slotcanyon #utadventure #phototour #figuremodel #naturalbeauty #humanexperience #fotisimo #portsinspired #reflections #watergoddess #desertbeauty
"
"
Come away, O human child! To the waters and the wild With a faery, hand in hand, For the world s more full of weeping than you can understand. Self-portraits from a recent hot springs sojourn. Poem by W.B. Yeats. #selfportraitphotography #selfportraits #ophelia #waterportraits #hotsprings #sunsetphotography #romanticism
"
"
From a dreamy autumn afternoon in the mountains with the talented @remirebillard. Travel Notice: Joshua Tree, CA Oct 14-16th Bay Area, CA Oct 18-23rd #travelingmodel #figure #artmodel #figuremodel #artphoto #sensualidad #sensuality #lionsgate
"
Writer
There is magic knit into our bones.
Wisdom living in our skin.
A wholeness lost within our wildness.
Saint Petersburg Photographer
Portrait/fine art photographer. DM for a session.
Positivity specialist. No politics.
Prints of all photos available.
What Colin Ward 'says' on Instagram:
"
Amber, the reclining nude....
"
"
Hideout....Alice in the rocks.
"
"
Making art on the rocks.... with Ivy and Amber....
"
"
Water babies..... with Amber and Ivy.
"
"
Catch a wave and you re sitting on top of the World....Beach Boys Ivy!
"
"
Amber and the hair flip....
"
"
The lovely @marriejayne411 in the studio......
"
"
Ivy with rocks again.....
"
"
Amber getting boulder......
"
Thank

you


شكرا جزيلا . Děkuji mnohokrát . Vielen dank . σε ευχαριστώ πάρα πολύ . Thank you so much . Muchas gracias . Merci beaucoup . תודה רבה לך . बहुत बहुत धन्यवाद . Grazie mólto . どうもありがとうございます . 정말 고맙습니다 . Hartelijk bedankt . Tusen takk . Dziękuję bardzo . Muito obrigado . Mulțumesc foarte mult . Спасибо вам большое . Tack så mycket . ขอบคุณมาก . çok teşekkür ederim . Дуже дякую . Cảm ơn rất nhiều . 非常感謝 .