Beauty
in
Utah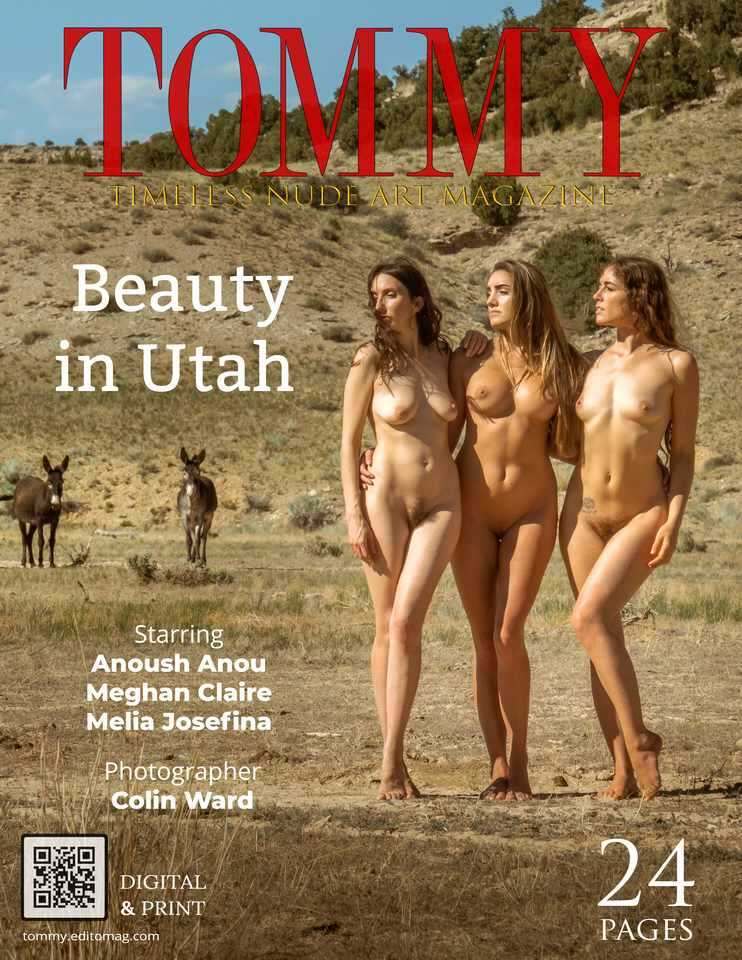 Anoush
Anou,
Meghan
Claire,
Melia
Josefina

Utah
-
United
States
Beautiful nudes in the state of Utah, USA
The Bonneville Salt Flats, The Great Salt Lake, and canyons near Moab
Utah, USA...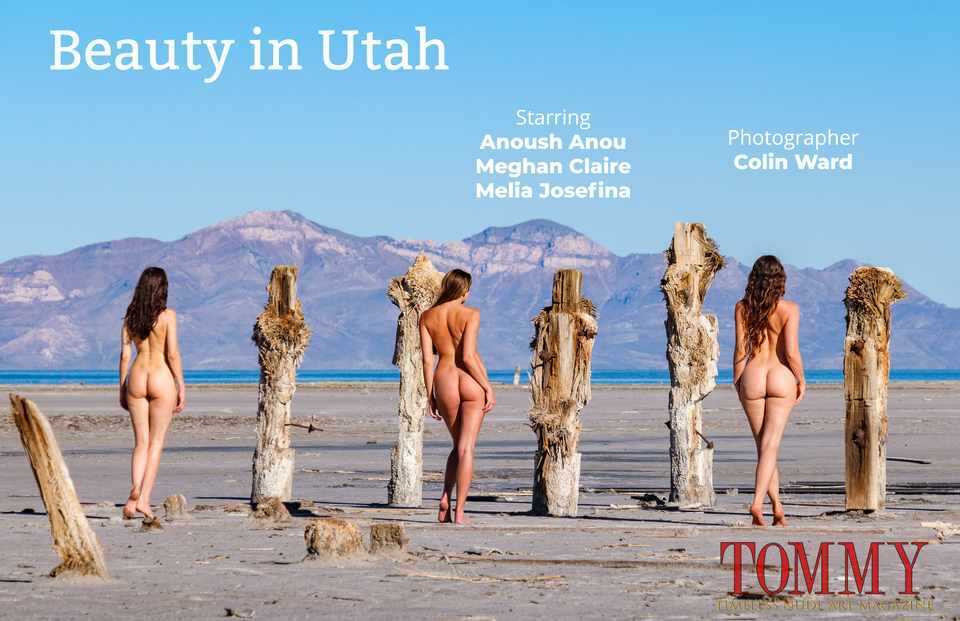 Print
Version
24
pages
US Letter 8.25"x10.75"
Saddle Stitch Binding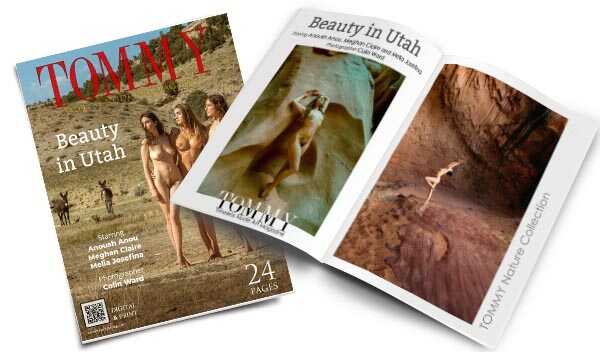 Digital
Version
24
pages
PDF 2550 x 3300 px

and enjoy your digital editorial
version with its
24
pages on your PC, Mac, Linux, smartphone and tablet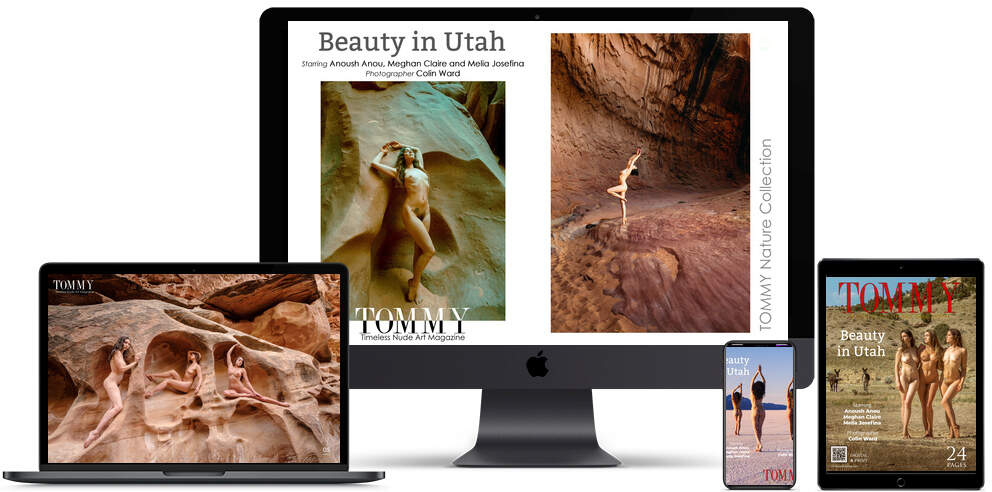 Buy the print copy of this book and get the digital version for
free !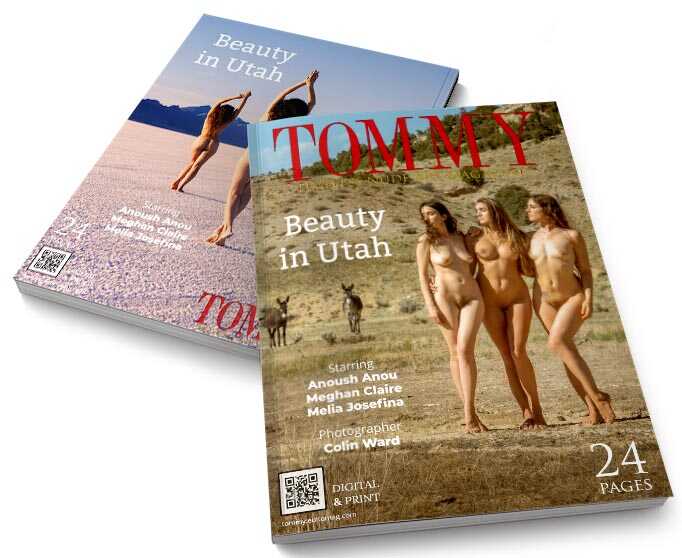 Art Model | Environmentalist
Now booking: SLC, St Louis & remote shoots.
DM me for details 📩: anoush.anou@gmail.com✨
Made in NZ 🌱 #plasticfree aspirant 🌎
🔽For more images🔽
What Anoush Anou 'says' on Instagram:
"
@utadventure is magic 💫 DM me for for info 💕 Image by the wonderful artist and human @soul.craft 📷✨
"
"
Straight from the camera (with permission) from a #remoteshoot last year with the amazing @lawrencesview 📷✨
"
"
By my dear friend, @robertweissner 📷✨
"
"
Studio figure study by the super sweet and talented @rodbrayman 📷✨
Can anyone tell me the name of the amazing artist whose pose we've referenced in this image? I wanted to credit her here but can't recall, it's driving me crazy! 😜
. . . . . . #fineartphotography #NZmodel #nycartist #blackandwhitephotography #figurestudy #figurativeart #bodylanguage_bnc
"
"
My dear friend @theanthonygauna lost his account and is trying to rebuild. He's an amazing wedding and portrait photographer, and just an all around incredible human, check him out! 🤗❤️
"
"
Hey friends! Today I have two very exciting announcements rolled into one! I've been pretty absent on social media lately, I know (thanks for sticking around!), but I've been meaning to let you all know how THRILLED I am to have been invited back to UTadventure next summer! ☺️🎉✨ You can join me, along with beauties @siennahayes.model and @shantiaveney from June 2 - 7, woot! 🥳
I admire and respect both of these women to the moon and back, and can't even imagine what an inspiring adventure this will be. Definitely a great one to consider if you've ever been tempted! And, as always, I can't recommend these events enough… I've been lucky enough to model at quite a few and each and every one has been such an uplifting blur of breathtaking landscapes, beautiful art, great vibes and new friends… I'm always left on a creative and personal high for weeks to come! ❤️✨

The second piece of amazing news is that, in case you are feeling tempted to join me in June, or by any other of their 2021 tours, @utadventure are offering an incredible sale for anyone who registers this Friday, November 27th… I'm talking $500 off!! 🔥💃🙌 Please visit www.utadventure.com to learn more, or to register using the code ANOUSH21. This sale is for one day only, so mark it in your calendars, and please feel free to DM me if you have any questions in the meantime. 💌

This beautiful shot of the amazing @faemuirina , @viribusfemina and I was taken on one of last year's magical tours by the super talented @soul.craft. I can't wait to return to this epic location! 🙌🎉

Thanks for reading, and I wish all of my U.S. friends a warm and love-filled thanksgiving. I'm SO incredibly thankful for all of you! 🤗❤️
. . . . . . #naturallight #35mm #35mmfilm #donteditme #analoguephotography #filmphotography #filmphotographic #analogue_people #theanalogueproject #believeinfilm #uncertainmag #filmwave #theanalogclub #back2thebase #magazine35mm #girlart #NZmodel #blackandwhite #blackandwhitephotography #bnwsouls #bnw_rose #bnw_creatives #bnwmood #bnw_captures #bwsoulpr0ject #bodylanguage_bnc #taintedmag #dreamermagazine #humanedge #folksouls
"
"
From my travels last year, by the completely wonderful @donnytidmorephotography 📷✨
. . . . . . #naturallight #fineartphotography #boheme #girlart #girlgaze #NZmodel #aussiemodel #austinartist #longhair #artmodel #curves #bodylanguage_bnc #photocinematica #taintedmag #dreamermagazine #humanedge #pr0ject_soul #featuremeseas #portraitmood #portraitpage #greeneyes #portraitmodel #ftmedd #quietthechaos #portraits_mf #hvmansouls #gramkilla
"
"
From a #remoteshoot with my wonderful friend @aimophoto 📷✨
"
"
By the wonderful @donnytidmorephotography 📷✨, 2019 . . . . . . #naturallight #fineartphotography #blackandwhite #blackandwhitephotography #bnwsouls #bnw_drama #bnw_rose #bnwmood #bnw_captures #bwsoulpr0ject #artmodel #ftwotw #photocinematica #taintedmag #dreamermagazine
"
"
One day when you wake up, you will find that you have become a forest. You have grown roots and found strength in them that no one thought you had. You have become stronger and more beautiful, full of life giving qualities. You have learned to take all the negativity around you and turn it into oxygen for easy breathing. A host of wild creatures live inside you and you call them stories. A variety of beautiful birds rest inside your mind and you call them memories. You have become an incredible self sustaining thing of epic proportions. And you should be so proud of yourself, of how far you have come from the seeds of who you used to be. - Nikita Gill Images on 35mm by the beautiful and multi-talented @mayatihtiyasphoto 📷✨
"
"
This past year has been full of blessings, but one thing I've really missed a lot has been spending time in nature. 🌿✨ I couldn't be more grateful to have another opportunity to reconnect this week in one of my absolute favorite ways, by creating here in Utah with my @utadventure family. 💞 These magical experiences always leave me feeling so inspired and reenergized, and I'm sooo excited to see what the next 6 days bring! 
🌄 This image was taken on a past tour, by the wonderful @carlosdavid.ca 📷✨
Dates for the 2nd-half of 2021 will be released soon; if you may be interested in joining one of these events please visit the link in my bio to register using the code ANOUSH21, or feel free to DM me for more info! 🤗
"
Traveling Art Model
Yoga, Dancer & Nature Lover 🌱
✨ Feminine Empowerment ✨
Boulder, CO & Tulum, Mexico
What Meghan Claire 'says' on Instagram:
"
I am in Tulum, Mexico for at least a month, enjoying warm ocean waters, white sands, tranquil turquoise cenote pools, and living off-grid in a little cabaña in the jungle. If you are in Tulum or planning on heading this way, message me to book a shoot and let's create some epic art! #cenotes #tulum #junglelife #offgrid #naturalbeauty #naturelover #artmodel #modelofotografica #modelo #fotografiaartistica #artphoto #desnudoartistico #fotisimo #sensual_shots_ #sensualidad #nomadlife #portraitstreak
"
"
Gorgeous sunset over the saltflats during @utadventure last summer. Photo captured by @joetymphotography. #sunset #utahphotography #saltflats #utadventure #phototour #travelingmodel #artmodel #naturalbeauty
"
"
Moon Magic 🌙 Who is coming to Utah with us on @utadventure this fall? Photo by @soul.craft with @siennahayes.model from UTadventure last year.
"
"
I am so excited and looking forward to modeling for @utadventure on the gorgeous Yucatan peninsula of Mexico with the amazingly talented muses @artdecomodel and @shantiaveney The Mexico photo tour is filling up nicely but if you want to join us in the Yucatan this March 3-8th there are still a couple of spaces left! Visit the link in my bio to sign up and register with the code Meghan21. Film photo by the amazing @soul.craft from UTadventure last summer. #utadventure #phototour #mexicophotography #artmodel #travelingmodel #fineartphotography #colorfilm #portra400 #portrait_vision #portraitmood #portrait #retratosfemininos #retrato #filmphotography #filmisalive #filmisnotdead
"
"
~Surrender into the lap of the Beloved~ Photo by @nimblephotons amongst the redwoods. Censored as needed for IG. #surrender #goddesslove #treelove #treespirit #treeroots #naturelover #fineart #fineartphoto #artphotography #beautyinnature #naturalbeauty #artmodel #sensual #longhair
"
"
Happy Winter Solstice beautiful creatives ~ may we all let our light shine brightly from within during this shortest day of the year for all of us in the northern hemisphere. Today marks a turning point, from here we experience a return of the light as the days begin to grow longer again and the strength of the sun is reborn. For me today is a reminder to keep my inner light shining bright and warm now when it is needed most, and into the New Year to come. 💫💛☀️ Photo by @northlight1977 at the historic house of the Weston's during a @weston.photography workshop. Censorship and cropping compliments of IG. #naturallight #light #wintersolstice #windowlight #shadowplay #portrait #portraitphotography #retratofeminino #portraitmood #portraitvision #theportraitpr0ject #bnwphotography #bnw #bnwmagic #artmodel #retrato #fotografiaartistica #fotodeldia
"
"
A moment in the sun high above the ocean near my old hometown of Santa Cruz. Photo by Eric Lowenberg and censored as needed for IG. #artphoto #bnw #bnwphotography #bnwsouls #bnwsoulpr0ject #portraitpr0ject #portrait #portraitmood #fotografia #fotodeldia #fotisimo #artmodel #retratofeminino #modeloartistico #sanddunes #oceanlife
"
"
In a few short days I will be saying farewell to the mountains of Chiapas, Mexico and begin the journey east to the beautiful coast of the Yucatan. Who will be joining me there with @utadventure this March 3-8th? I believe there are still a couple spaces left on the tour for any photographers who are interested! Film photo by @figuresofgrace from @utadventure last year. Censored as needed for IG. #bnw #bnwphotography #filmphotography #film #fisheyelemag #fisheyelens #filmisnotdead #filmisalive #artphoto #fotografiaartistica #sanddunes #phototour #yucatan #artmodel #humanedge #bnwsouls #bnwsoulpr0ject #pr0ject_bnw #fotisimo #adventuremodel
"
"
This is an experience that I always look forward to and one of my favorites of the year. If you can get away this spring for a @utadventure photo tour in Utah, I highly recommend it, it is an experience not to be missed! They have their last sale going on this weekend only for $555 off any of their spring tours and they are expecting to book up by Sunday so don't miss your chance! I am in Mexico currently so I am not modeling for any of the Spring Utah tours ~ but they have an amazing model line-up as always! Visit utadventure.com for all the tour dates, details and to sign up! Photo by @joetymphotography from UTadventure last year. Fully censored and edited by me with permission. #utadventure #phototours #utahisrad #utahphotography #artmodel #fineartphoto #humanedge #bendyback #poses #waterlover #naturelover #fotodome #modelofotografica #fotografiaartistica #surreal #reflections #digitalart #fotisimo
"
"
UTadventure just announced their fall tour dates! I have been fortunate in being able to travel and explore some of the most beautiful places in the world, yet there are few places that offer the stunning diversity of landscape and wild beauty as can be found and experienced in the Utah desert. I truly look forward to this experience every year, and hope you can join me, @viribusfemina and @venusdesierra this September 16-21st for our fall @utadventure tour to create some amazing art! Also, if you register today you can still catch their $300 discount off the tour price! Join us at utadventure.com/sign-up Film photo by @soul.craft created on tour last year. #portra400 #filmphotography #colorfilm #artmodel #desertbeauty #wildbeauty #implied #naturetour #phototour #adventure #utadventure #artphoto
"
"
Welcoming in a new year of change and transformation. I welcomed in the New Year at sunset on this same beach in Santa Cruz with a solo cold plunge two years ago. For New Year last year, I found myself once again on a beach, but that time around a fire with many beloved sisters under a bright moon, and we took a liberating night dip into the warm cleansing waters of the Caribbean. This year I spent it quietly at home with loved ones, nestled in the mountains of Mexico, far from the ocean waves, and it was perfect. Hope you all are enjoying where you are now, wherever that may be, and finding gratitude for the gifts that life brings, no matter how small or large. 🙏 Photo by @jonathancphotog from this last fiery autumn in California. Censored as needed for IG. #sunset #ocean #beach #newyear #artphoto #artmodel #figuremodel #travelingmodel #portraitmood #naturalbeauty #naturalhair #auburn #naturelover #naturallife #beachlife #fotoarte #fotofeminina
"
Writer
There is magic knit into our bones.
Wisdom living in our skin.
A wholeness lost within our wildness.
Saint Petersburg Photographer
Portrait/fine art photographer. DM for a session.
Positivity specialist. No politics.
Prints of all photos available.
What Colin Ward 'says' on Instagram:
"
The escape by @ambersflowers
"
"
The cousins...... with @bigheartbiggerdreams
"
"
No caption..... @ambersflowers @colinwardphotos
"
"
Walking a path to...... With @its_meganblake @wanderlustshootouts
"
"
Where s my carrot? With @ambersflowers and Trigger @wanderlustshootouts
"
"
@avaelisemodeling on her big red tractor
"
"
Madison in the studio.... @madisonhamway_
"
"
Finding the glow.....with Cody
"
"
Duo.... with @ashleydifronzo and @alison_steuer
"
Thank

you


شكرا جزيلا . Děkuji mnohokrát . Vielen dank . σε ευχαριστώ πάρα πολύ . Thank you so much . Muchas gracias . Merci beaucoup . תודה רבה לך . बहुत बहुत धन्यवाद . Grazie mólto . どうもありがとうございます . 정말 고맙습니다 . Hartelijk bedankt . Tusen takk . Dziękuję bardzo . Muito obrigado . Mulțumesc foarte mult . Спасибо вам большое . Tack så mycket . ขอบคุณมาก . çok teşekkür ederim . Дуже дякую . Cảm ơn rất nhiều . 非常感謝 .